Critical command operations.
From anywhere.
For specialized missions that demand peak performance, Frontline Communications' custom expanding and non-expanding mobile command trailers are designed, built, and fully integrated around our customer's exacting standards. Our custom mobile command trailers can be deployed with ease in minimal time, offering expansive workspace, flexible interior layouts, powerful electrical and climate control systems, and reliable response on demand.
Our systems engineers, with decades of technical systems design experience, will customize each Frontline Communications mobile communications and command trailer as needed, to include
Satellite, microwave, or cellular video transmission
Teleconferencing
HD and thermal cameras
Radio communications and dispatch
Weather stations, and more!
Each Frontline Communications mobile command trailer is designed to be set up and operational in minimal time. Features and equipment such as 4-ton rear-mounted HVACs, 80-gallon fuel tanks, perimeter and mast cameras, whiteboard surfaces, lavatory, galley, and custom paint and graphics can be included on any fully customizable design.
Frontline Communications' mobile command trailers extend your operations to the field by providing the most reliable on-scene operations centers featuring all the equipment and comforts of your fixed facility.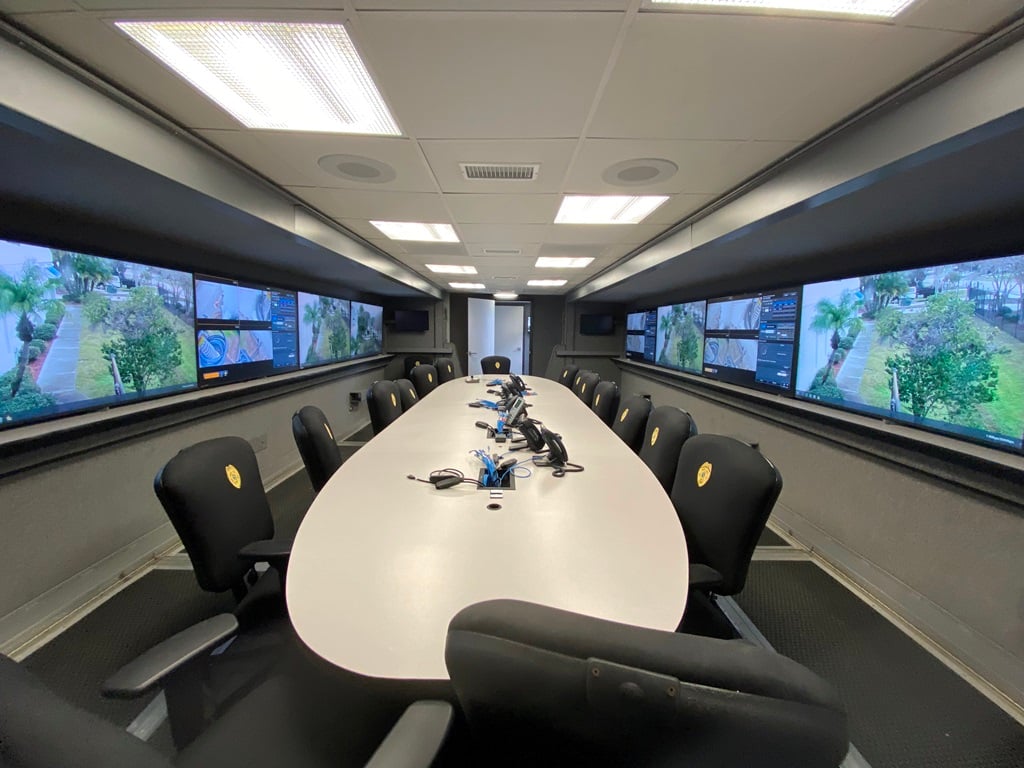 Trailer Specs
Chassis

Peterbilt, Kenworth, Freightliner, International, Mack, and others available

Overall Length

Body Length

Generator Power

Slide-outs

Up to 4 standard slide-outs or 2 extra large slide-outs

GVWR

Workstations

Warranty

Body: 10-years
Paint: 5-years
Electrical: 2-years
Fabricated parts: 5-years
Workmanship: 1-year
Trailer Equipment
Trailer

Custom power panel

.125 all-aluminum seamless body

Hydraulic leveling system

Fully customizable layouts

100a shore power

Custom storage compartments

Up to 80 gallon fuel tank

Back up and perimeter cameras

Two entrances

Lonseal heavy-duty vinyl flooring

Up to 50kW generator

Large conference table

Red/white dimmable interior lighting

Emergency and scene lighting

Systems

1 - 5 full-height equipment racks

Masts

HD and thermal cameras

Video routing system

Wi-Fi bubble

LCD/LED video displays

Interoperability systems

VSAT satellite systems

Satellite TV

Microwave downlink system

Video conferencing systems

Radio comms and dispatch equipment
Popular Options
Trailer

Multiplex control system

UPS Systems

Solid surface countertops

Galley w/microwave, coffeemaker, and refrigerator

Lavatory

Custom storage cabinets

Electric awnings

Custom paint and graphics

4-Ton rear-mounted HVAC

Systems

Angled consoles at workstations
Exterior workstations and monitors
Custom communications console in cab for mounting radios and controllers
Weather-station
Apple TV
Cellular signal booster