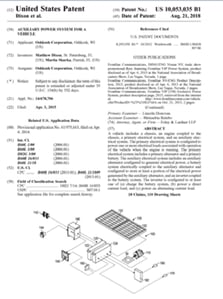 CLEARWATER, Fla. (September 4, 2018) – Frontline Communications, an Oshkosh Corporation (NYSE:OSK) company, announced today that the Patent Office has issued U.S. Patent # 10,053,035, which is intended to protect Frontline's VIP® System invention. The Frontline VIP® System is a power system that is an alternative to a standard generator, combining an alternator, batteries and inverter in an innovative way to provide reliable 120V, 24V and 12V power for vehicle installed equipment.
In 2012, Frontline's engineering team set out on a mission to develop a new power system for broadcast vehicles. For years, broadcasters had been asking for a replacement for vehicle based generators with a power source that was reliable, efficient, quiet and cost effective. Since introducing the Frontline VIP® System years ago, Frontline has delivered over 400 vehicles with the Frontline VIP® System, and 95% of all broadcast vehicles built today utilize core reliability attributes of the Frontline VIP® System.
"Frontline is proud of our engineering team's accomplishment and the recognition that now comes with it. This latest accomplishment demonstrates Frontline's continued commitment to build the safest, most technologically advanced and most cost-effective broadcast vehicles in the world" said Jonathan Sherr, Sr. Vice President of Frontline Communications.
Frontline has been designing and building broadcast, communications and specialty vehicles since 1989. It remains committed to listening to its customers to develop and introduce new technologies for its broad customer base.