Superior design.
Superior technology.
Your mobile command and communications vehicle must have the perfect balance of size and functionality.

Frontline Communications' mid-size mobile command vehicles range in lengths from 25' to 35' and provide the space and maneuverability your agency requires to fulfill the most demanding missions. Our mid-size emergency response vehicles with a 2×4 or 4×4 drivetrain and advanced technology are designed to provide a versatile platform for first responders.

Frontline Communications' mid-size mobile communications vehicles include available features such as slide-outs, customized equipment racks, multiple workstations, whiteboard wall surfaces, lavatory, galley, and ample storage.

Our mid-size mobile command and communications vehicles are designed to be ready and reliable anytime, anywhere.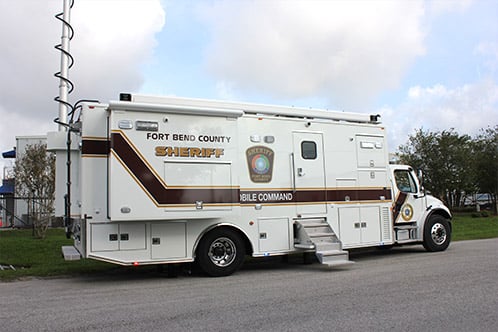 Vehicle Specs
Chassis

Freightliner M2-106
Ford F-750
Others available

Overall Length

Body Length

Generator Power

Slide-outs

GVWR

Workstations

Warranty

Body: 10-years
Paint: 5-years
Electrical: 2-years
Fabricated parts: 5-years
Workmanship: 1-year
Vehicle Equipment
Vehicle

Custom power panel
240V/50A or 100A power system
2-3 roof-mount 15,000 BTU HVAC
Red/white dimmable interior lighting
Custom aluminum cabinets
Emergency lighting
Scene lighting

Systems

Up to 3 full-height equipment racks
Firecom intercom system
HD and thermal cameras
Video routing system
LCD/LED video displays
Popular Options
Vehicle

Multiplex control system
Galley w/microwave, coffeemaker, and refrigerator
Lavatory
Pedestal sliding swivel chairs
Electric awning
Custom paint and graphics

Systems

Angled consoles at workstations
Exterior workstations and monitors
Custom communications console in cab for mounting radios and controllers
Customized A/V, network, radio and phone systems
Weather-station
AppleTV
Cellular signal booster