Custom design for ultimate flexibility.
Operational missions sometimes call for quick deployment and nimble action best provided by a compact mobile command vehicle.

Frontline Communications' reliable emergency response vehicles are highly customizable and provide robust, high-performing communication proficiencies for aerial surveillance, active shooter response, hostage negotiations, crime scene investigations, HAZMAT incidents, and weather crises.

Our mobile communications vehicles are easily maneuverable, rapidly responsive, and mission critical.
Frontline Communications' C-17 SUV can be built on a Chevrolet Tahoe or Suburban, or Ford Expedition EL chassis to provide a rugged quick response platform for daily operations. Our ultra-reliable patented Frontline VIP® power system supports all AC and DC loads and an electronic equipment racks can be installed in place of the rear driver's side seat.
Frontline Communications' C-24 Sprinter features a 3.0L diesel engine, from 8,600 to 12,000-lb GVWR, 2 or 4-Wheel Drive, a 7.5kW diesel generator, all-LED lighting, and 6' of interior standing height. Our wide range of interior configurations provide ample space for up to 5 operators and 3 full height equipment racks housing electronic equipment integrated to the highest standards.
Frontline Communications' C-25 mobile command vehicle features a custom built 15' body with over 6' of interior standing height, mounted on a Ford F-650 chassis. An 8kW generator powers the rooftop air conditioner and all electronics. A full height equipment rack, ergonomic workstations, and scene lighting are all standard features. Popular options range from thermal and HD mast cams, exterior video displays, video conferencing, multiple levels of comms options and connectivity packages, all with custom paint and graphics.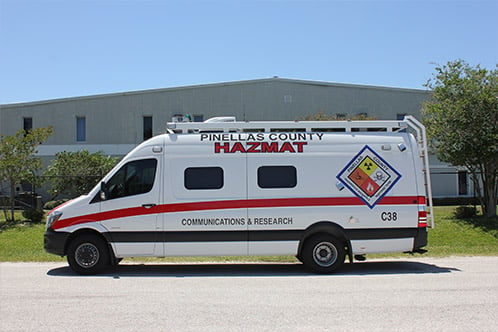 Vehicle Specs
Chassis

Chevrolet Tahoe or Suburban
Ford Expedition EL
Ford 650
Others available

Overall Length

Body Length

Generator Power

Slide-outs

GVWR

Workstations

Warranty

Body: 10-years
Paint: 5-years
Electrical: 2-years
Fabricated parts: 5-years
Workmanship: 1-year
Vehicle Equipment
Vehicle

Custom power panel
240V/50A Power system
1-2 roof-mount 15,000 BTU HVAC
Red/white dimmable interior lighting
Emergency lighting

Systems

Custom full-height equipment racks
Firecom intercom system
HD and thermal cameras
Video routing system
LCD/LED video displays
Popular Options
Vehicle

Custom aluminum cabinets
Galley w/microwave, coffeemaker, and refrigerator
Electric awning
Custom paint and graphics

Systems

Exterior workstations and monitors
Custom communications console in cab for mounting radios and controllers
Customized A/V, network, radio and phone systems
Weather-station
AppleTV
Cellular signal booster