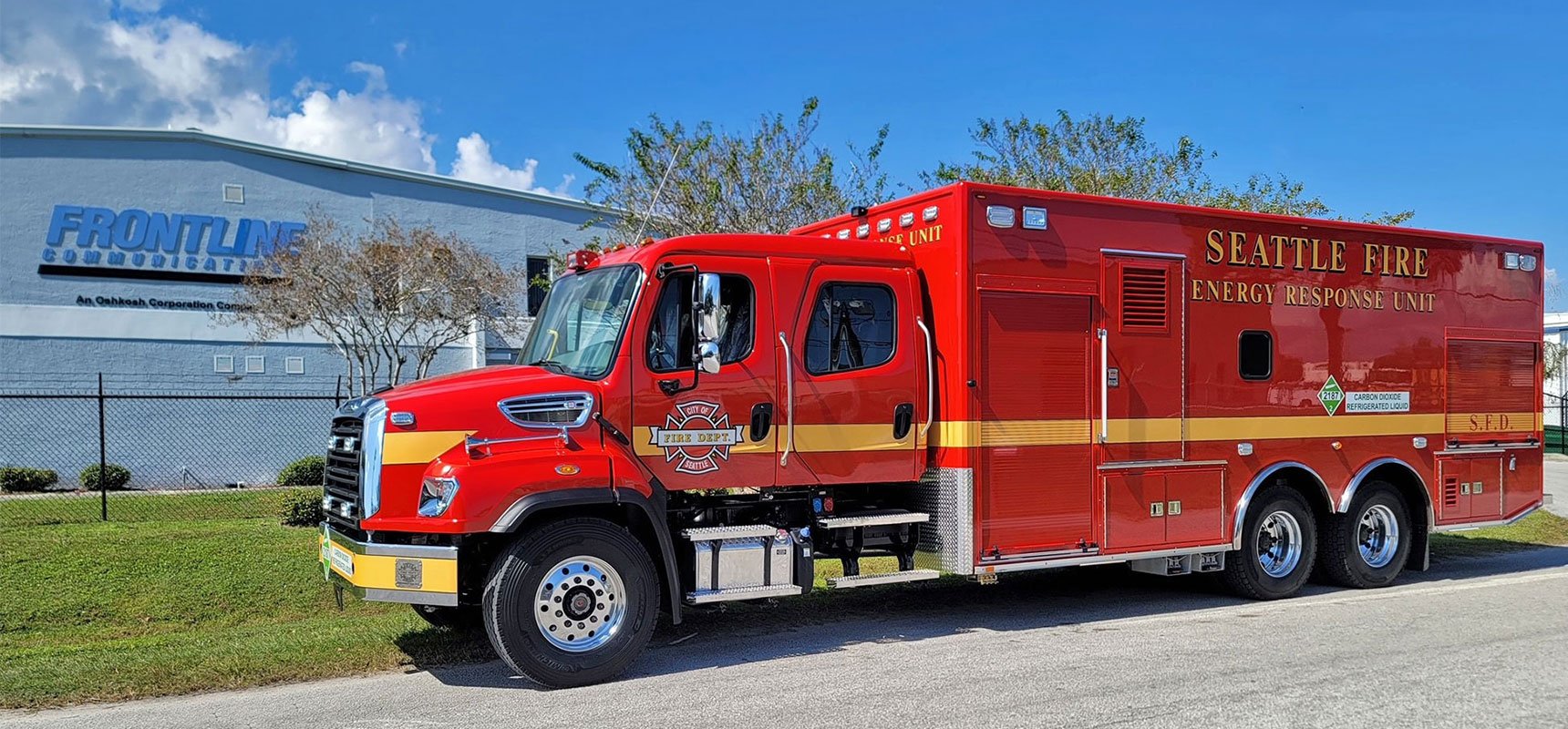 The energy response vehicle was funded by Seattle City Light and features groundbreaking carbon dioxide fire suppression technology to combat fires in underground electrical vaults.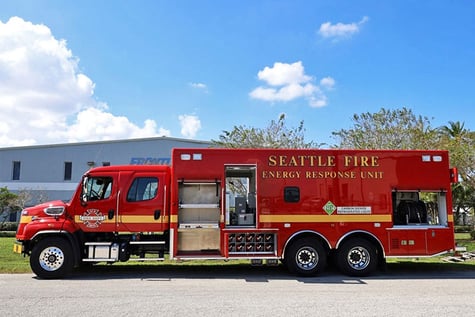 APPLETON, Wis. (June 29, 2023) – Frontline Communications, a division of Pierce Manufacturing, Inc., and a subsidiary of Oshkosh Corporation (NYSE:OSK), announced today the Seattle Fire Department has unveiled a new energy response unit (ERU) equipped with an advanced carbon dioxide fire suppression technology to combat fires occurring in underground electrical vaults. Sold through Hughes Fire Equipment and funded by the public utility providing electricity to Seattle, Washington, Seattle City Light, the Frontline Communications' CO2 Vault Fire Response Truck includes an 11,000 lb CO2 vessel, 600 feet of 1.25-inch hose, and flows 220 lbs of liquid CO2 per minute with a 34 PSIG pressure drop.

Approximately 20 percent of the U.S. electric distribution system is underground. Electrical vaults are most common in large cities and densely populated communities, such as Seattle. Underground electrical vault fires are difficult to combat because of accessibility challenges and damage caused to electrical infrastructure using traditional fire suppression agents, such as water. CO2 extinguishes fire by robbing it of oxygen and is an offensive approach to keeping fire from spreading throughout an entire electrical vault system.

Fire Captain Chris Greene of the Seattle Fire Department, a foremost thought leader in the U.S. on fighting energy fires, has facilitated many educational sessions on the topic and assisted with directing the development of the department's new ERU.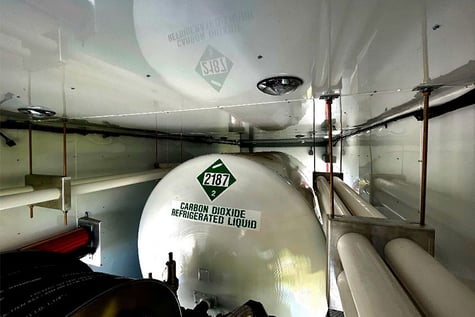 "The revolutionary design of our new emergency response unit is a remarkable evolution of the Pierce vehicle retrofitted for us back in 2018, which allowed Seattle firefighters to be armed with carbon dioxide canisters to address electrical vault fires," said Captain Greene. "We were proud to be the first to design a critical resource incorporating this advanced method of fighting electrical fires, and we now welcome into service the next generation of leading-edge technology in energy emergency responses."

In 2018, the Seattle Fire Department worked with Seattle City Light to take a unique approach to fight electrical vault fires by retrofitting a decommissioned Pierce vehicle and equipping it with CO2 canisters and 120 feet of hose line. The department's next generation ERU from Frontline Communications incorporates an innovative design addressing the department's previous limitation gaps.

Captain Greene added, "We increased our capacity by 11-fold compared to our old rig, now with three hose lines 200 feet each, which can be deployed simultaneously or connected for a total of 600 feet of hose line. We are now able to go deeper into spaces, and there is not an area in the city we can't combat – which is a reassuring feeling for our team."

The new ERU will be housed at Seattle Fire Department's Station 25, where 48 members of an energy response team are trained to safely address the public safety needs resulting from energy hazard incidents. In the event of an electrical vault fire, the team removes the utility hole cover, inserts the hose/metal wand, and injects the vault with CO2 while covering the opening with a fire-resistant tarp. Once the fire is out and cleared of smoke and CO2, Seattle City Light personnel de-energize electrical equipment, making the area safe for crews to begin repairs.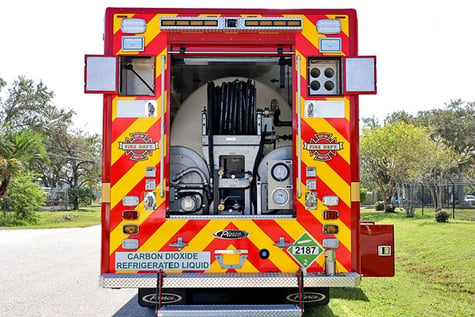 Other features of the Seattle Fire Department's new CO2 Vault Fire Response Truck include:
Freightliner M2-114SD crew cab
Generator power: 35kW PTO (pressure build vaporizer system), 5kW (utility and refrigeration system power)
TOMCO2 Systems 5.5-ton DOT steel skid tank on skid, 11,000 lb of CO2
Two CO2 extinguisher storage compartments
Aluminum rescue hook compartment and CO2 deployment pipe compartment on rear of vehicle
Firecom wireless intercom system
To learn more about Frontline Communications and the latest emergency response vehicles, visit www.frontlinecomm.com.